Here ya go! The video came out decent enough, Sony Vegas did a good job of preserving the high end information lost through the LAME compression process. I would say this is a pretty accurate representaion, with the loss of some low end detail. The Sylvania's and Ruby tubes actually sounded much more full on the bottom end. YouTube's compression actually didn't hurt the audio quality much, Vegas is what hurt the bottom end the most, but the audio is true.
No changes in EQ/volume/presence or input gain on the mic between tube changes. 10 minute cooldown inbetween changes. 3 minute warmup and 3 minute playtime so the tubes got hot before recording. On each clip I switched to the neck pickup and rolled the volume to 3, played a lick, then rolled the tone to zero, played a lick, then back to full, played a lick, then back to bridge dimed so you could hear all the high end detail on all the tubes. Clearly you can hear how musical the Sylvania's are versus the rest, but the 5881's actually did better than I recalled them being. On full blast the Ruby's did well, but are still kinda dull sounding to me.
You be the judges though:
http://www.youtube.com/watch?v=eLwgFHTLo5Q
_________________
1994 Mark III Blue Stripe 60 watt, R2 vol mod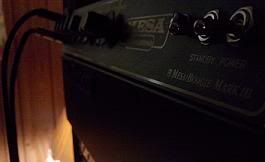 In his house at R'lyeh dead Cthulhu waits dreaming.
http://www.myspace.com/ytwwvofficial