So I just installed my Mansfield Guitars adjustable bias kit. First I have to say it was a pretty easy install all things considered. I didn't worry too much about whether or not I could do it, I've been doing mods on vintage amps with point to point tag boards ('66 Super Reverb, etc) for a while both successfully and unsuccessfully so I'm a fairly competent solderer. The most difficult part was getting the old resistor out. It actually fell apart when I heated up the solder joint. Maybe I used to hot a setting on my iron (40watts) but that is what I've always used so...
Anyway, I'll attach pictures of the mod. I found a big square hole (can a hole be square?) right behind and between the middle power tubes and it was just begging me to be used to thread the wire through. I put two layers of shrink wrap around the wires for protection. I think in the future I'll put silicon seal or a grommet of some type in there to further protect it, but the two layers of shrink wrap should work fine for now. This location allowed me to use a very short section of wire to reach the PC board spot where the resistor was removed. The whoel project took a little less then an hour. Here are the pictures.
By the way, a quick note that I didn't notice on anywhere on the other threads on both mid mods and the bias kit. Everyone is deathly afraid of the shock hazard of the filter caps. You should be. They are deadly if not properly discharged completely. I show how I do this in the pictures. It's simple, I wired up a couple of alligator clips to a piece of wire from some standard romex I had laying in the house, and sealed the alligator clips to the wire. Then you can clip one end to the chassis for ground, and touch off the + side of every filter cap to insure there is no stored up and deadly electricity. Before I do this I usually shut the power of the amp off but leave the standby switch on and play a few chords until the sound dies down. That helps to drain the caps, but it doesn't always drain them completely. Then turn off the stand by switch (or you'll forget to later and turn your amp on with the standby engaged) unplug the amp and take the chassis out of the head. It's four screws on the top. See my pics below.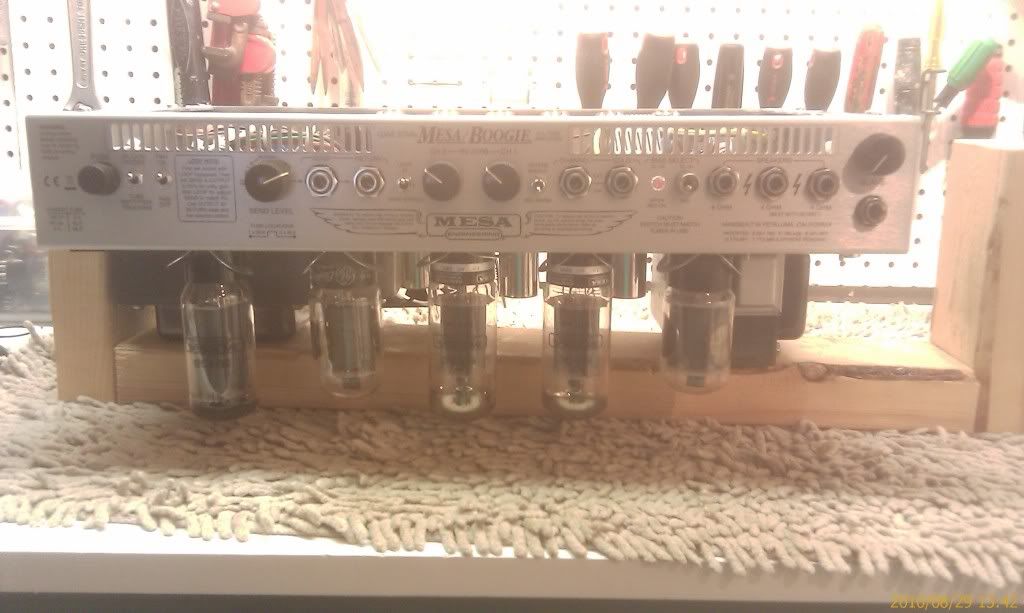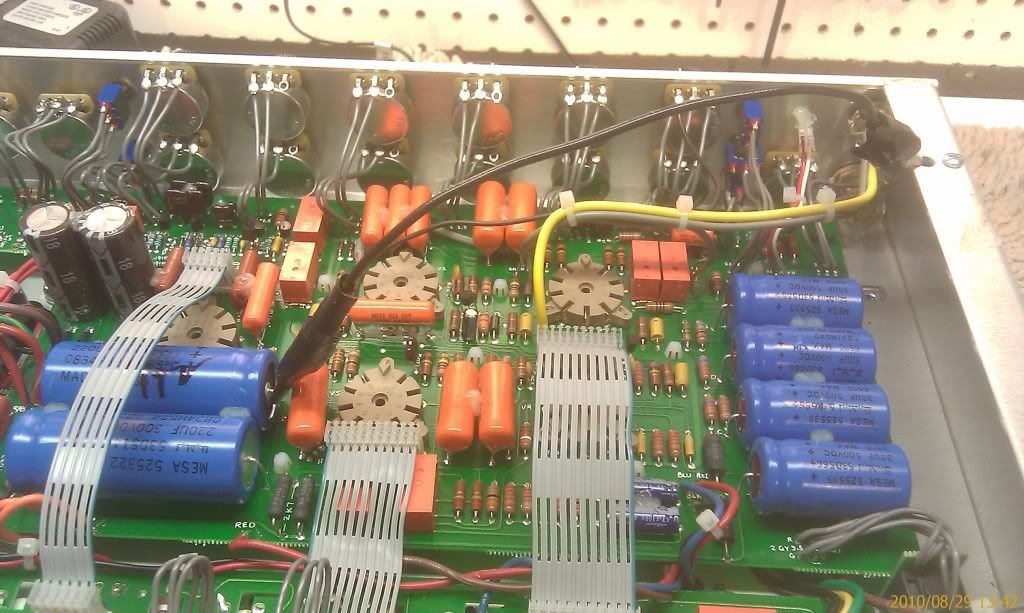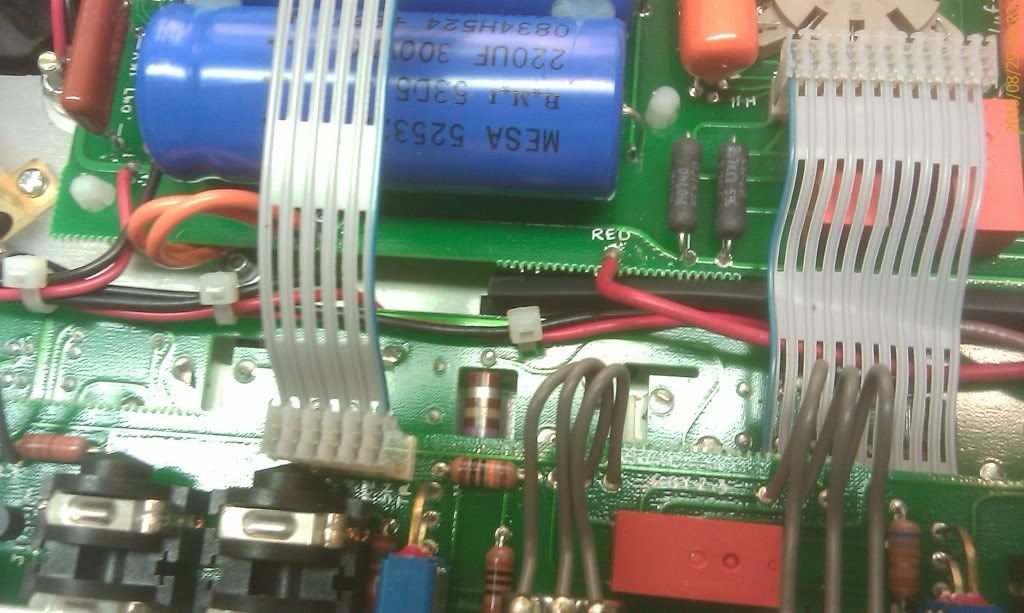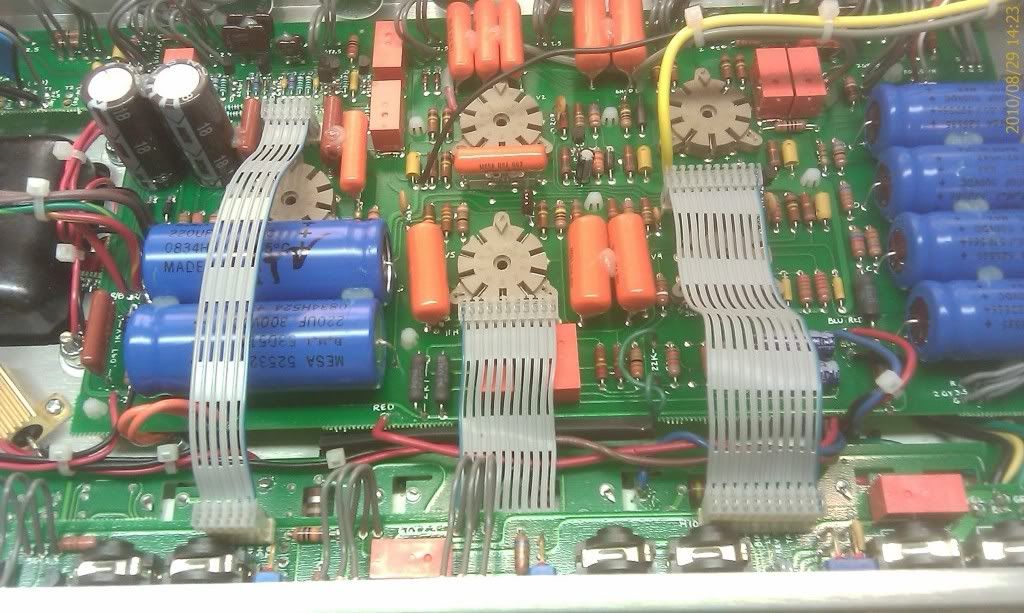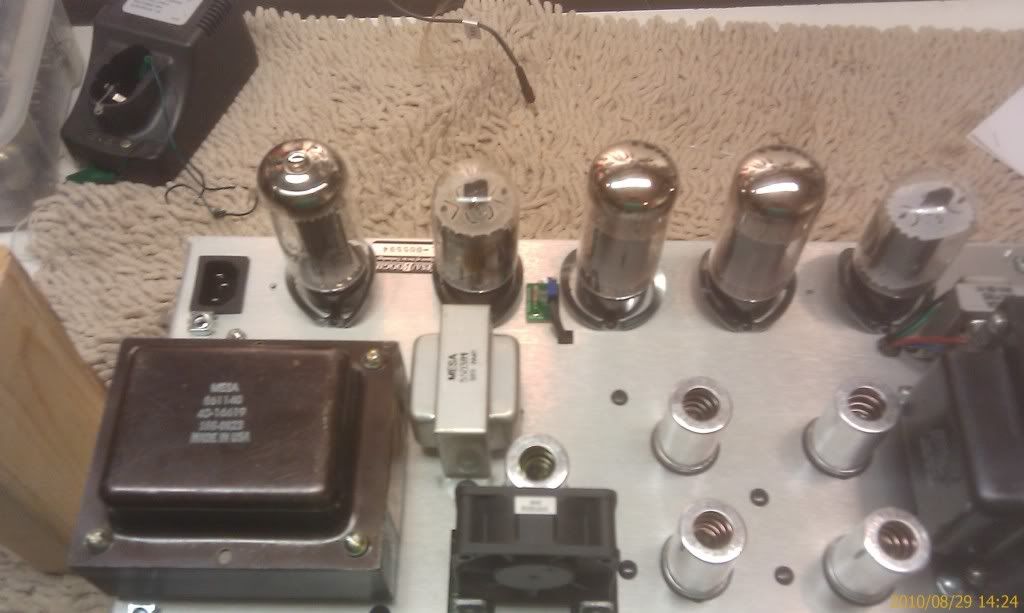 Anyway, the amp is MUCH warmer now, and touch sensitive. I've only been on it for a few minutes, so I'll edit this post after playing for a few hours. May take her out to my local blues jam tonight and see how she feels at volume. It's my birthday, so I'll get to crank it up!
Alright. Post playing for several hours. I did take it to my local blues jam last night and it sounded awesome. Got a lot of compliments on my tone afterwards and there was a ton of interest in the amp itself. Turning up the bias in this amp definitely changes the amp for the better. It's warmer, much more articulate with chording, get's a nice distortion without being fuzzy and the bottom end is huge. Doesn't hurt that I have a 1X12 ported Mesa Roadster cabinet with V30's in it either. It actually has as much or more bottom end then my 4X10 Super Reverb, which is huge.
I played in Channel 1 last night, but channel 2 might very well become my new channel of choice. I biased the amp to 40ma in the 50 watt mode, and I can clean it up real nicely with the volume control on my guitar. It has that singing sustain and growl that I was looking for, but sounds as good as my Blackface Super Reverb when it's clean without the ice pick. A very good thing indeed. Suddenly this amp is not just versatile, but has the beautiful musical quality I felt it was lacking before. Much fuller sound. Much better distortion overall. In fact, absolutely beautiful distortion. Now it sounds like Andy Timmons amp, without crushing the neighbors with volume.