Brief & Accurate Description of gear/guitar:
Chase Bliss Audio Dark World
Dual Channel Reverb
Just released and has sold out
Get one now without wait
CBA has stated that there may not be another run until 2019
Unit in hand. Will ship immediately. No wait.
New in box
Never used
Never stepped on
Details:
The Chase Bliss Dark World Dual Channel Reverb is the first fully digital offering from Chase Bliss Audio; a unique dual channel reverb made with a little help from their friends. Cooper FX is responsible for the "Dark" channel; a collaborative effort influenced partly by their Generation Loss and Outward designs. Keeley Electronics crafted the "World" channel, which houses three absolutely gorgeous Hall, Plate, and Spring algorithms. Put together, the channels can be routed in 33 distinct ways, creating a stunning palette of reverb ranging from subtle, tasteful, and lush all the way to broken video cassette, glitch shimmer, and infinite freeze. Add all this to the dense digital control and full MIDI, dip-switch, and preset implementation Chase Bliss is known for, and you have yourself a very fun, powerful, and player-friendly reverb pedal in a small package.
Also:
Chase Bliss Audio FAVES switch
Details:
Faves™ is a dead simple MIDI controller that allows the user to access six presets as well as "live" mode on-the-fly for any of the Chase Bliss pedals.
Modifications (if any):
None
Accessories (hardshell case etc):
Boxes and manuals for both
Location (City,State or City,Country):
Central NJ
Contact Info (No Phone #s)
PM me here
References (eBay or other forum userid):
I am on Ebay, Jemsite, MetalGuitarist.org, Sevenstring.org, Thorn Forums, HugeRacks, Marshall Forums, VHT Forums, Fractal Forums, Vintage Rocker Birds and Moon, The Gear Page, Harmony Central, RigTalk, Guitar Porn, Reverb.com all with the name Sevenstringer
Price (include currency and if firm/obo):
$550 OBO on Dark World
$50 for Faves
No Trades Thanks
Pictures: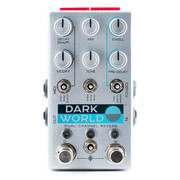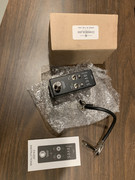 More pics here:
https://postimg.cc/gallery/15hgbie1y/