Brief & Accurate Description of gear/guitar:
(2) RJM Music Mini Effect Gizmo
Both work great with no issues
Have a few scratches here and there, cosmetic in nature only
5 loops each, true bypass
RJM Site info:
Control your pedals on a pedalboard, in a rack drawer, or wherever. The Mini Effect Gizmo is small enough to fit almost anywhere
One button press on a MIDI controller can turn on any or all of the 5 connected pedals. No more pedal tap dance!
5 true-bypass audio loops allow you to preserve your guitar's tone. Unused effects – and the cables that connect them – are switched completely out of your signal path
Relay-based switching offers the most transparent sounding audio switching available
The built-in audio buffer improves tone even further, reducing level and treble loss from long cable runs
Click Stopper™ circuit insures quiet switching
Compatibility with all MIDI controllers
Easy to program and use
Modifications (if any):
None
Accessories (hardshell case etc):
None
Location (City,State or City,Country):
Central NJ
Contact Info (No Phone #s)
PM me here
References (eBay or other forum userid):
I am on Ebay, Jemsite, MetalGuitarist.org, Sevenstring.org, Thorn Forums, HugeRacks, Marshall Forums, VHT Forums, Fractal Forums, Vintage Rocker Birds and Moon, The Gear Page, Harmony Central, RigTalk, Guitar Porn, Reverb.com all with the name Sevenstringer
Price (include currency and if firm/obo):
$495
No Trades Thanks
Both were $700 new
Pictures: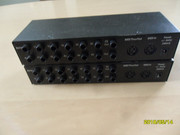 More pics here:
https://postimg.cc/gallery/20lvao6w6/