Moderators: Guitarzan, Grandor, ned
Someone asked me if the natural oils on ones fingers could cause any issues on tubes. I said I don't know. Could this be an issue?
1991 Mark IV A
---
Mark IV
Posts: 562
Joined: Mon Dec 31, 2007 12:28 pm
Location: St Paul, Mn.
I don't think it's an issue.
Maybe, if your using some kind of halogen tube it would be.
Last edited by
Riff Blister
on Tue Mar 20, 2012 9:33 am, edited 1 time in total.
Stiletto Deuce II, with bias mod - 2x12 Recto Cabt. Scumback M75s inside
Bogner Shiva EL34 80 watt
Budda Superdrive II 45
'79 Gibson Les Paul Custom Silverburst
'85 Gibson SG '61 Reissue
Fender American Standard Stratocaster and Telecaster
---
Mark IV
Posts: 701
Joined: Thu Sep 24, 2009 11:01 pm
Location: Birmingham, Al
Contact:
Nah, not really. The only real problem is if you handle old tubes once they have significant burn in times it's very easy to rub off the old silkscreening. Other than that the oils on your hand (unless your hands are simply ultra-nasty) are not likely to cause a significant problem with the durability of a tube - their glass if very thick and not likely to break from oil-heat related breakage. It's much more likely to break from drop/mishandling, and much more likely to simply outlive itself in usefullness than to be broken if handled properly at all.
1994 Mark III Blue Stripe 60 watt, R2 vol mod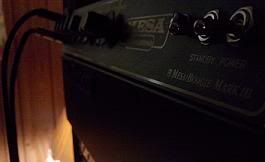 In his house at R'lyeh dead Cthulhu waits dreaming.
http://www.myspace.com/ytwwvofficial
---
It's not an issue. This comes up due to not touching halogen lamps. They burn at super high temperatures. Much higher than tubes.
---
Cool thanks guys!
1991 Mark IV A
---