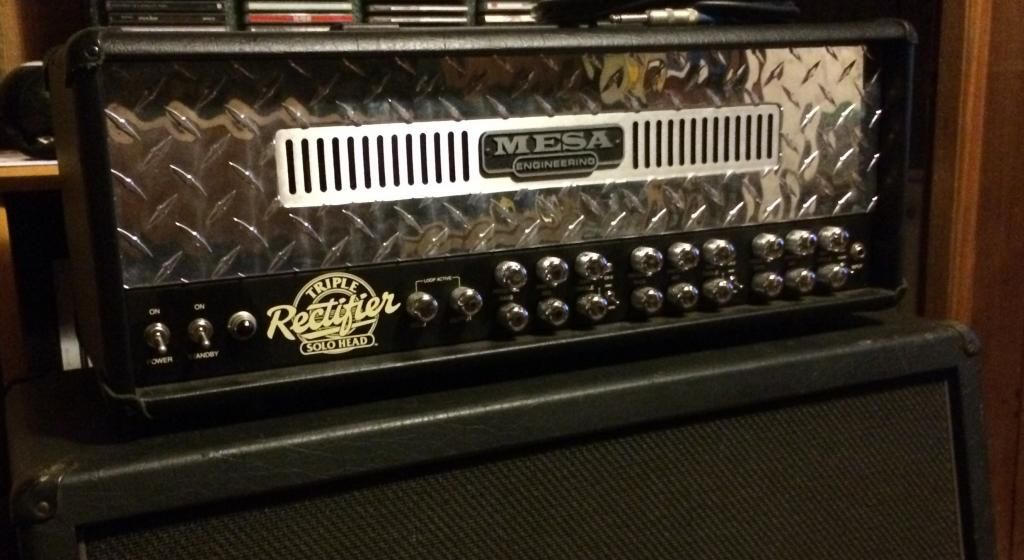 Been a good year, I picked up the Mesa F-50 for $400, great small amp, plus all my extra pedals made a nice baby pedal board, most shows this is all I need.
Scored a Mesa 4x12 (oversized 280 watt) slant for $200 missing it's logo plate, but I ordered a new one from Mesa for $20, I already had the straight/bottom cab, now I finally have the matching top.
Also finally scored a Triple Recto, I'm loving it, I've always wanted a Road King II, but those all still so ridiculously expensive, maybe someday.
Overkill/absurd I'll admit it, especially since I use in ear monitors, but I play in a few different local bands some cover bands, metal/punk bands this will do nicely.
It's a huge upgrade from my Marshall MF350 head I'd been using for years, everyone keeps asking me if I'll sell my Marshall, but I'd be a fool to not have a spare I think.
I've been looking into getting something like this, for the head, spare head, furman power supply, drawers, wireless, etc...
http://www.ebay.com/itm/ATA-CASE-FOR-Du ... 35a2a24a10
But then it becomes impossible to move by myself....
I'll eventually make a demo video of the pedalboard, it sounds unreal thru the mesa full stack.
http://www.reverbnation.com/malarkey