lesterpaul wrote:
the guys who build them are 20 minutes down the road from me-cool cats-
Where is this dude? Can you PM me his info? Because I've been meaning to go to Curtis Granger and try out one of his Mojotone loaded cabs. I need a studio quality cab bad for this new album. All 3 of my touring cabs are (tonally) showing their wear after 6 years of blasting high velocity metal, and my 120 watt Marshall cab just took a huge dump.
_________________
1994 Mark III Blue Stripe 60 watt, R2 vol mod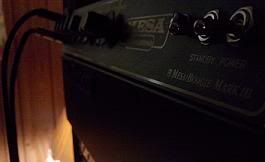 In his house at R'lyeh dead Cthulhu waits dreaming.
http://www.myspace.com/ytwwvofficial